Wang Theatre | Boston, Massachusetts
The term 'legendary' is used often when it comes to describing artists in the industry, but it couldn't be more apt to describe Ringo Starr and His All Starr Band! Led by the former Beatle, the supergroup is an unbelievable line-up of second-to-none performers, bringing you a jaw-dropping set of Beatles songs, Starr's solo work, and songs from their own illustrious back-catalogs! Joined by the Avett Brothers in support, Ringo Starr and His All Starr Band comes to Wang Theatre on Thursday 2nd June 2022, as part of a previously postponed tour:
"This is very difficult for me," said Ringo of the decision to postpone, "in 30 years I think I've only missed 2 or 3 gigs nevermind a whole tour. But this is how things are for all of us now, I have to stay in just like you have to stay in, and we all know it's the peace and loving thing we do for each other… My fans know I love them, and I love to play for them and I can't wait to see you all as soon as possible. In the meantime stay safe. Peace and Love to you all."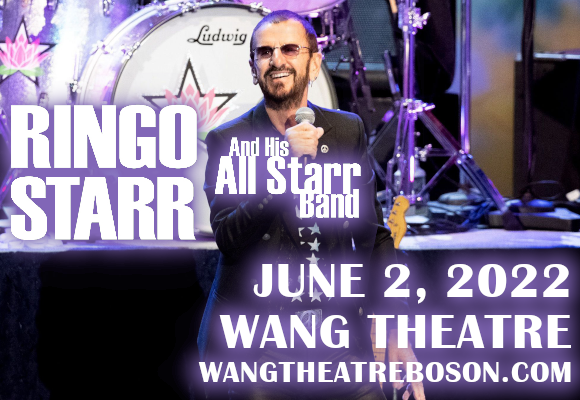 Former Beatles rummer and singer Ringo Starr formed the live rock supergroup Ringo Starr and His All-Star Band was formed in 1989. Currently consisting of Starr, Colin Hay (Men At Work), Hamish Stuart (Average White Band), Gregg Bissonette (David Lee Roth band), Steve Lukather (Toto), Greg Rolie (Santana/Journey), and Warren Ham (Kansas/Toto), the idea behind the band is that "everybody on stage is a star in their own right". Always fronted by Starr, the group has been through fourteen touring iterations over the last 30 years, with a revolving line-up of members that has previously included members such as: Joe Walsh, Dr. John, Bruce Springsteen, Todd Rundgren, John Candy, Bonnie Raitt, Steven Tyler, Slash, Stevie Nicks, Peter Frampton, Ray Davies, Howard Jones, and Sheila E. among many, many others.