Wang Theater At The Boch Center | Boston, Massachusetts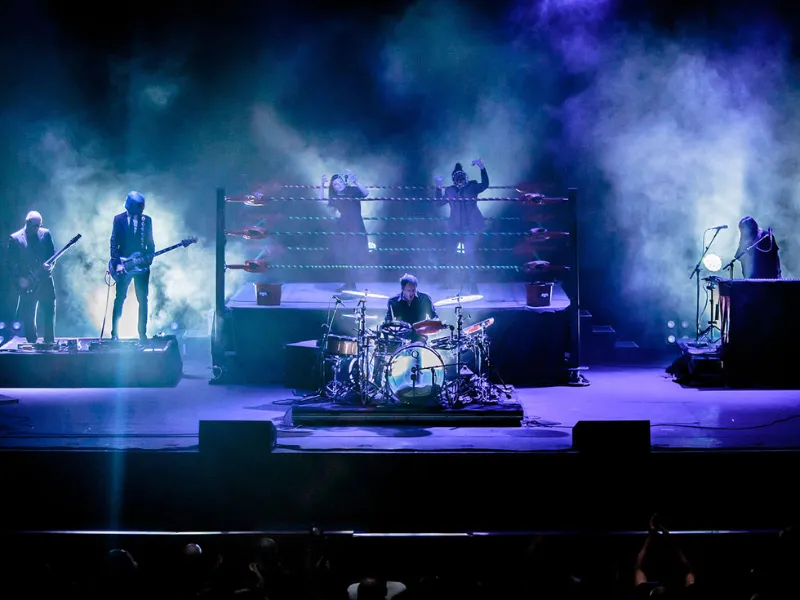 Puscifer, Primus, and A Perfect Circle are joining forces for a three-way rockfest celebrating Maynard Keenan's 60th birthday, kicking off on Tuesday, April 2, at the Wang Theatre! The "Sessanta" US tour adds eight new stops to its itinerary, which includes a live concert launch in Boston's first-class performance venue, featuring a magnificent backdrop for the rock and roll legends. While fronting the GRAMMY Award-winning rock band Tool, Keenan branched into Puscifer and A Perfect Circle—two genre-defining acts that conquered the weekly Billboard 200. His work with the former produced classics such as "Conditions of My Parole" and "The Remedy." As for the second, he dropped the California Music Award-winning Mer de Noms album and Alternative Airplay hits "The Outsider" and "Passive." Primus, meanwhile, is the GRAMMY-nominated band led by Les Claypool, from which the musical story of "Jerry Was a Race Car Driver" was conceived. For tickets to Maynard Keenan's "Sessanta" concert celebration, click the button above and pick a date!
Celebrate the 60th birthday of rock and roll legend Maynard James Keenan as he takes off on his nationwide "Sessanta" tour! Joined by his Puscifer and A Perfect Circle bandmates, the four-time GRAMMY Award-winning Tool frontman adds eight additional dates to the trip's schedule, with a third co-headlining slot filled by Les Claypool's Primus. Drag your friends along and see the tour launch on Tuesday, April 2, at the Wang Theatre in Boston!
"I've known Maynard for more than three decades and I have to say, I've yet to meet a more creative, ambitious, and industrious human being; that is assuming he is actually human," Claypool shares in a press statement.
An official press statement describes the concert's format as a simultaneous showdown between the three bands, each with their own respective set. Riffing off each other's performances, "the players will continually transform" as the show progresses deep into a night of unadulterated musical mayhem.
Keenan first conceived Puscifer as a solo project for his "creative subconscious," but was eventually joined by collaborators Carina Round and Mat Mitchell. All four of their studio albums charted well in the Billboard 200, from their debut "V" Is for Vagina to their latest Existential Reckoning. Some of their most streamed songs include "Conditions of My Parole," "The Remedy," and the AA-charting hit "Queen B."
In 1999, Keenan formed A Perfect Circle at the City of Angels in tandem with guitarist Billy Howerdel. Their first album, the California Music Award-winning Mer de Noms, dropped a year later, featuring lead singles "Judith," "3 Libras," and "The Hollow." The supergroup's subsequent albums debuted within the top 3 of the Billboard 200, gracing the airwaves with Alternative Airplay hits such as "Weak and Powerless," "The Outsider," and "Passive."
Our third co-headliner, Primus, is a thrice GRAMMY Award-nominated funk-metal band famed for its progressive "psychedelic polka" arrangements. Fronted by bassist-vocalist icon Les Claypool, the group's decades-spanning discography produced multiple platinum collections, which include their sophomore albums Sailing the Seas of Cheese and Pork Soda. Their best-known charting singles include "Jerry Was a Race Car Driver, "My Name Is Mud," and "N.I.B." feat. "Prince of Darkness" Ozzy Osbourne.
The Wang Theatre will host the launch day concert for Sessanta: A 60th Birthday Celebration for Maynard James Keenan on Tuesday, April 2! Boasting a glorious stage and backdrop, the historical performing arts venue also showcases exceptional sightlines, acoustics, and regal lighting for the event, promising fans a night of epic proportions. Tickets are selling out - get yours ASAP!