Wang Theatre | Boston, Massachusetts
Multi-platinum selling contemporary Christian rockers, MercyMe, is to make its return to the big stage on a new arena tour 'MercyMe Live 2022'. The tour features special guests Rend Collective and Andrew Ripp. The 1-month trek includes a stop at Wang Theatre on Friday, 4th of November 2022. The tour announcement follows the band's special new single "Then Christ Came". Set to share new music and crowd-favorite worship hits at the MercyMe Live 2022 tour, the band invites all believers to gather and lift their praises high on a special night at Wang Theatre. So, get ready for an intimate and captivating worship experience like no other with the one and only MercyMe by booking your tickets now!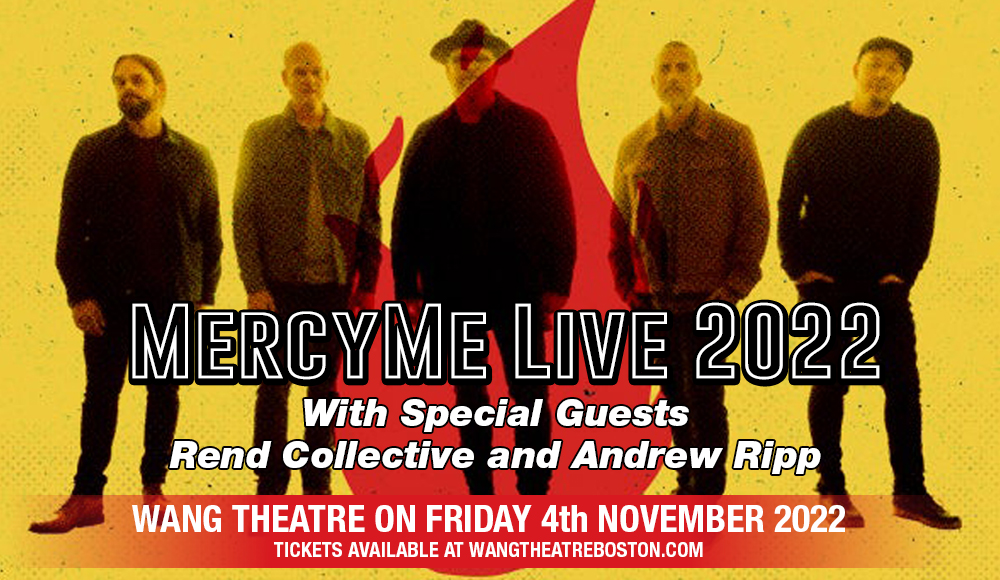 Multi-platinum awarded and multi-Grammy Award-nominated contemporary Christian band MercyMe is set to embark on a new arena tour named 'MercyMe Live 2022'. The band earlier released their newest song "Then Christ Came" which was two years in the making. The track didn't make it in time for the release of their tenth album "Inhale (Exhale)", but that didn't stop the band from sharing with the world this special song.
"We are just so excited with how it turned out," shared band vocalist Bart Millard. "Sometimes we over-complicate things trying to come up with new, creative ways to sing about Jesus. But the message of this song is simple in that it's about who I was before, and then Jesus showed up, and now everything has changed. We love how it turned out and hope you like it, too!"
MercyMe has been committed to exalting God's name since its formation in 1994 in Edmond, Oklahoma. Though it wasn't until 2001 when the band found their global breakthrough with their first major album "Almost There". Their song "I Can Only Imagine" earned them a Dove Award, topping the Billboard 200 for 7 weeks. Since then, MercyMe has blessed Christian airwaves for their songs that speak volumes of emotion and depth as a believer.
MercyMe's greatest hits and worship crowd favorites over the years include "Greater", "Here with Me", "Flawless", "All of Creation", "Grace Got You" (featuring John Reuben), "Best News Ever", "Say I Won't", and their newest special song "Then Christ Came".
"Being able to travel around the country and around the world, having songs that have gone beyond the bounds of the Christian music industry – every time something like that happens, it makes us step back for a second and have these moments of gratefulness and we just think it's amazing that we're still doing this," Nathan Cochran shared.
Geared up to perform their new songs, best hits, and crowd favorites live on stage, MercyMe is calling believers to the altar at Wang Theatre where they're leading praise and worship on a very special night. Don't miss out on the MercyMe Live 2022 tour by booking your tickets now!