Wang Theatre | Boston, Massachusetts
Your favorite comedy podcast that talks about topics on dating, sex, and relationships, Girls Gotta Eat, hosted by no other than Ashley Hesseltine and Rayna Greenberg, is coming off of your screens and onto the live stage at Wang Theatre on Saturday, October 29th of 2022. If you want some sex tips, relationship advice, or even f*ckboy detection, the girls are in to talk about these live on tour! Since 2018, they've candidly discussed a wide array of topics with their signature charm, even bringing in guests such as therapists, comedians, and authors to take part in their hilarious segments. Through the power of female friendship – and "never settling for bad sex", the girls are set to empower and get you laughing your a** off on tour! Book your tickets now!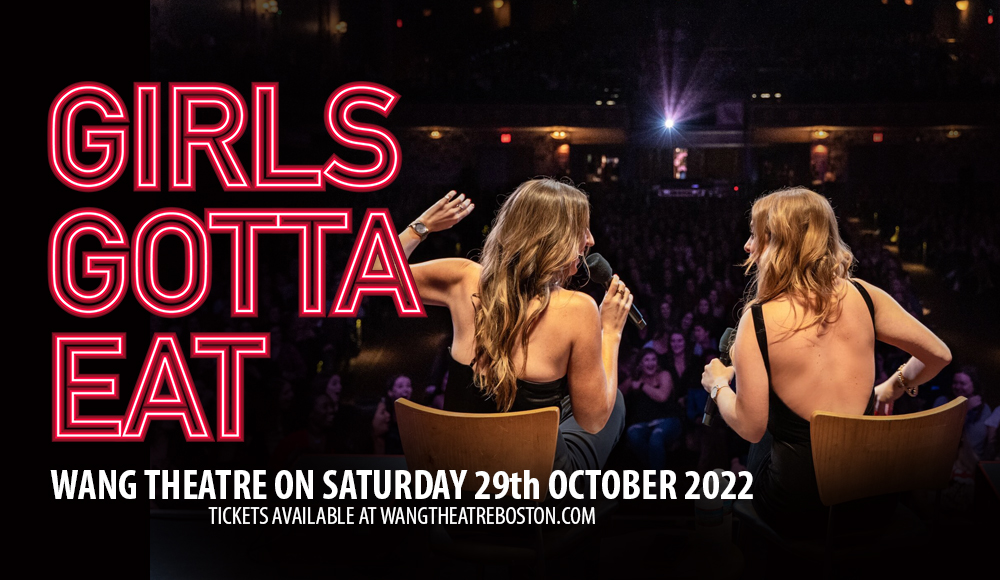 Hosted by comedians Rayna Greenberg and Ashley Hesseltine, the Girls Gotta East Podcast has been empowering and getting audiences laughing their a** off since 2018. From sexual fetishes to financial tips, the girls have talked about a wide array of topics through their comedic talent and charm that gets everyone relating to and laughing their socks off. On their website, they tell audiences "We believe in SELF-CARE, THE POWER OF FEMALE FRIENDSHIP, AND NEVER SETTLING FOR BAD SEX. We love nothing more than bringing our wild show on the road and meeting our "SNACKHEADS" around the globe."
Snackheads are definitely in for a good time as the iconic duo hits the live stage on tour, where they answer the following questions:
"Why do guys just want to f*ck you once, then watch your Instagram stories until the end of time? How do you get over a breakup when you feel like you're gonna die? When should you give it up? My boyfriend takes morning baths: IS THIS WEIRD?"
The hilarious podcast is going off of your screens and onto the live stage with their signature uncensored, intimate, and whacky antics that get everybody laughing and learning a lesson or two. Audiences become part of the show itself in an interactive experience with the two stars themselves.
The podcast has invited therapists, authors, comedians, and dating aficionados who join them in discussing various topics with a comedic kick, all together they feel enabled to "feel very empowered to give advice to people".
Don't miss out on this chance to catch the comedy stars themselves, Rayna and Ashley, live on stage, bringing the Girls Gotta Eat podcast right before your eyes in an interactive show where they answer those questions mentioned earlier. You'll surely giggle, laugh out loud, shed a tear, and learn a lesson or two. So, book those tickets now!