Wang Theatre | Boston, Massachusetts
With his no-holds-barred approach to comedy, Dane Cook shot to stardom on the modern comedy circuit and remains one of stand-up's best live acts! The magnetic and engaging performer comes to Wang Theatre on Friday 29th October 2021 for the first of an extra special two-night-run that are his only dates this year! The acerbic and astute comic will be performing Tell It Like It Is and you know that he'll be doing exactly that!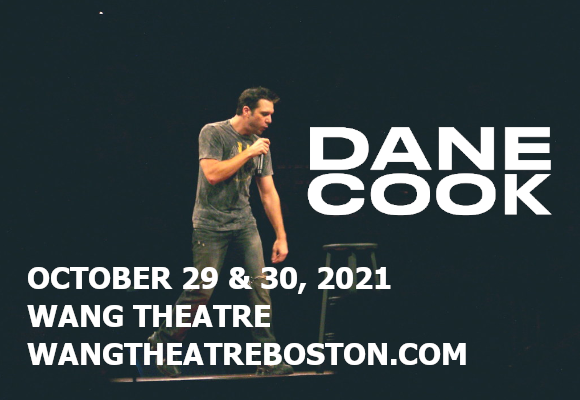 Stand-up comedian and film actor Dane Cook began performing stand-up in 1990 and received his 'big break' in 1998 when he appeared on Comedy Central's Premium Blend. Since then, he has continued to be championed by Comedy Central – in 2000 he did a half-hour special on Comedy Central Presents, which won the Comedy Central Stand-up showdown twice in a row, and he signed with Comedy Central Records in 2003. That year, he released his platinum-selling debut comedy album, Harmful If Swallowed, with the label. His 2005 follow-up, Retaliation, debuted at number four on the Billboard 200, making it the highest charting comedy album in 28 years and the most successful comedy album debut since Steve Martin's A Wild and Crazy Guy in 1978. It has been certified double-platinum by the RIAA. Cook was the second comedian (after Andrew Dice Clay) to sell out Madison Square Garden's large arena space and 2007 saw the release of Rough Around the Edges: Live From Madison Square Garden, which debuted at number 11 on the Billboard 200. His most recent release was the 2010 compilation I Did My Best: Greatest Hits Album.