Wang Theatre | Boston, Massachusetts
If you're looking for a remarkably entertaining and humorous show, you should check out Wait Wait… Don't Tell Me in Boston! On Thursday, 20th October 2022, the sensational hour-long radio show, hosted by actor Peter Sagal, is set to light up the Wang Theatre! This show, recorded in front of a live audience, entertains six million listeners weekly. This fall, you have the opportunity to participate in the live recording and witness the show on stage! If you're a comedy fan, you must not miss Wait Wait…Don't Tell Me's live performance at the Wang Theatre! It is guaranteed to make you laugh like there's no tomorrow! So hurry and score your tickets now before it's too late!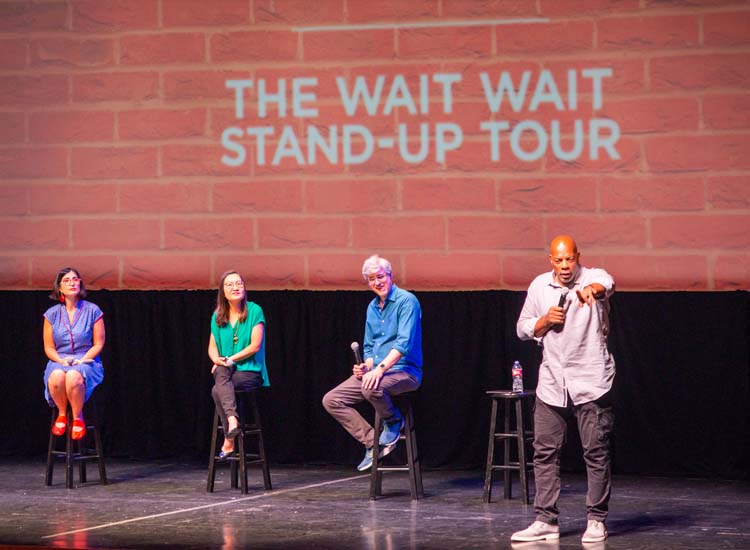 Wait Wait…Don't Tell Me is a weekly radio show by National Public Radio and WBEZ. The show can be heard on the radio and online via podcast. Since 1998, the show has garnered millions of followers with its unique premise. Wait Wait…Don't Tell Me quizzes its contestants in humorous ways. Some of the show's guests include celebrities and known personalities, such as Tom Hanks, Robert Siegel, Richard Sher, Tom Papa, Luke Burbank, and Drew Carrey. Moreover, the show is highly interactive, with listeners often participating through phone calls or emails. Since its initial airing in the late '90s, Wait Wait…Don't Tell Me has amassed over six million followers. Thus, the show, initially recorded in front of a live audience in Chicago, went on tour and became a hit.
The unique format of Wait Wait…Don't Tell Me has also resonated well with critics and the show regularly attracts famous guests. In 2008, the show won a Peabody Award and was nominated for a Webby Award. In 2011, the show struck a deal with CBS Entertainment and finally made its television debut. Two years later, an episode of Wait Wait, performed in New York City, was streamed live and broadcast across North America in cinemas and theaters. The episode featured host Peter Sagal, Carl Kassel, and panelists Tom Bodett, Steve Martin, Paula Poundstone, and Mo Rocca.
Experience Wait Wait…Don't Tell Me at the Wang Theatre on Thursday, 20th October 2022! Tickets are now available!