Wang Theatre | Boston, Massachusetts
The 'quarantine-favorite' comic who gave the world a dose of unstoppable laughter amidst the early lockdowns, Taylor Tomlinson, is set, heading straight to the live stage at Wang Theatre on Thursday, February 2nd of 2023 as she embarks on a series of shows for The Have It All Tour. Serving remarkable wit, hilarious jokes, funny tales, and surprising wisdom, Tomlinson's gift of finding humor amidst life's hurdles is one to be amazed by. With two critically-acclaimed Netflix specials up her sleeve, the "Quarter-Life Crisis" star is dead-set to give it her all in this live stand-up tour run. Get yourself that much-needed dose of laughter by booking your tickets now!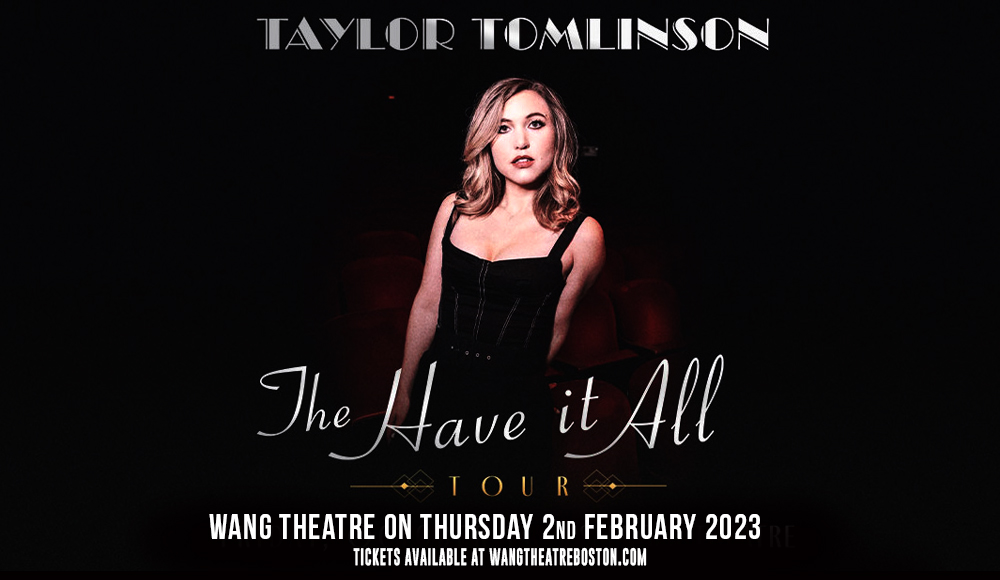 Navigating life through humor and wit, Taylor Tomlinson shines through for her undeniable hilarious acts and charming wisdom, winning the hearts of viewers around the globe. As one of the fastest-rising comic acts of this generation, Tomlinson is ready to give her all at her very own headlining live stand-up tour. From church basements to sold-out theatres, she's dominated mobile screens and packed venues for her relatable and hilarious acts. Releasing her first Netflix special "Quarter-Life Crisis" in March of 2020 at the onset of global lockdowns, the woman quickly became a comedy-gold star as the world laughed their socks off amidst uncertainty.
Now, she's stronger, funnier, and much more mature than ever as she takes on new heights in this world of uncertainty. What's certain though is she's definitely "undeniably hilarious" and "wise beyond her years" as described by Newsweek.
The Los Angeles Times shares that "even when she's navigating painful waters, she can't help but find the humor… her wit and pinpoint delivery reveal both an incisive writer and also a talented actor."
Signing up for stand-up classes at age 16, performing at church basements and cafes, at comedy clubs, and then at sold-out theaters, Taylor Tomlinson is living proof that finding humor in life's hurdles brings out the best in every situation.
Earlier this year, she released her second Netflix stand-up special "Look At You" where she takes audiences on a hilarious and intimate journey of her struggles including mental health, grief, and dating. Finding light at the end of the tunnel with a dose of laughter in every step, Tomlinson is whip-smart and spectacularly cynical" as described by Mashable for her well-honed comedic feats.
Making it to Forbes' "30 Under 30" list in December of 2021, and Time's "100 Next" list with 100 stars from around the world, Taylor Tomlinson's craft and charm are definitely one for the books.
As she navigates life and finds more reasons to laugh every step of the way, share this dose of joy with thousands of others live at The Have It All Tour with the one and only Taylor Tomlinson by booking your tickets now!