Wang Theatre | Boston, Massachusetts
Latin music's jazz and salsa icon, Rubén Blades has officially announced that his tour will be in full swing starting this November. Dubbed as the "Salswing! Tour", named after his latest album release of the same title, the tour will take Blades to a number of key venues, including a show at the Wang Theatre on Sunday 28th November 2021. Joining Rubén Blades onstage is The Roberto Delgado Big Band comprised of 20 Panamanian seasoned musicians who hold vast records of international performances. Before you slip on those dancing shoes to dance the night away, get a grip on those tickets first. It's a hot salsa-swing night and Blades' most avid followers wouldn't want to miss this. Go and book your tickets now!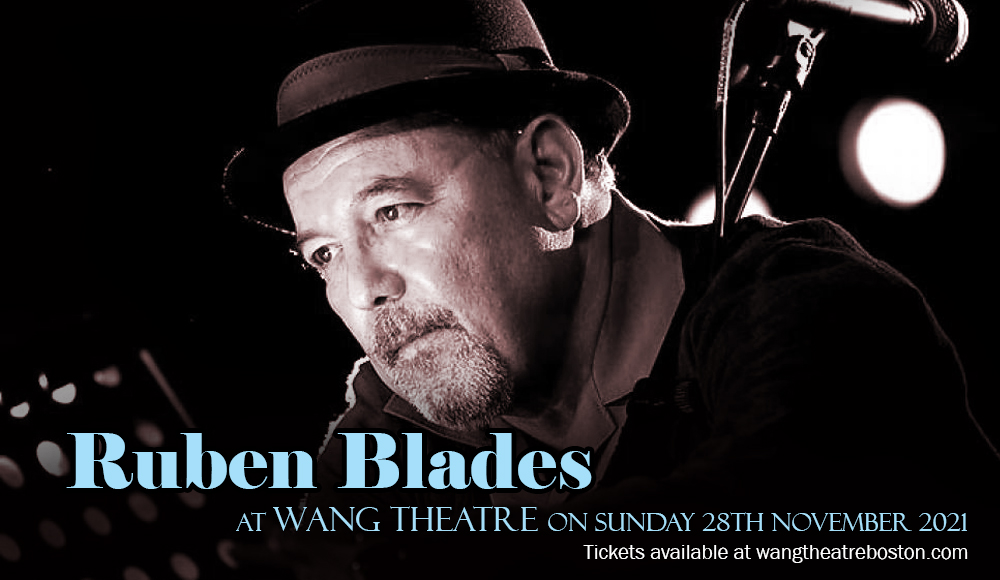 Rubén Blades is tagged as a Panamanian musician, singer, composer, actor, activist, and politician. Yet Rubén Blades is best-loved and adored by legions of loyal fans for his salsa and Latin jazz music. He has nine Grammy Awards out of seventeen nominations and five Latin Grammy Awards, to his name. Apart from being a highly regarded celebrity, a well-accomplished and multi-awarded music artist, Blades has an impressive educational background and is a respected public servant, as he is a Harvard international law school graduate and served as Minister of Tourism of Panama from 2004 to 2009.
He began his career in music in the late seventies, and has recently dropped his latest album "Salswing." He has been classified under the Latin music genre, but Blades stresses the universality of his music.
"All albums today limit themselves to a specific musical direction to fill a specific market niche. It is an economic imperative, not an artistic one. … I'm doing it with a Panamanian band because I wanted them to broaden their horizons — and I wanted also to prove the fact that music can be made by people not necessarily because they're born in some country or they're a certain race or nationality, but that as long as you have a spirit that calls for it, music can be produced anywhere in the world by anybody."
As Blades brings "Salswing" out to his ever-enthusiastic live audience after over a year when the pandemic has put live entertainment to a halt, he cites this rather important reminder.
"We are very happy to be able to work and engage with our fans again, after almost two years without being able to do so. With the Roberto Delgado Big Band, a band of 20 musicians that continuously sounds better and better, we are eager and excited to share our latest album Salswing!, and my greatest hits… please make sure to get vaccinated," stated Rubén Blades.
Now swing over to the top of this page where you can click on the 'Get Tickets' link to book those hot tickets now!