Wang Theater At The Boch Center | Boston, Massachusetts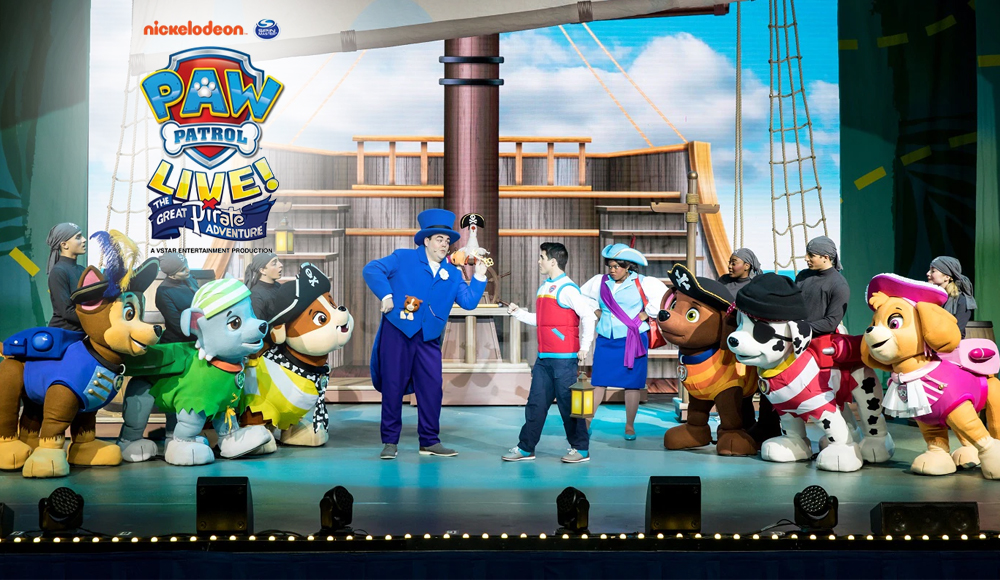 Calling all little pirates! Aye aye, captain! Get those paws ready as Nickelodeon's hit children's animated TV series, PAW Patrol, is hitting the stage. Making its way back to Wang Theatre for a couple of amazing days of singing, dancing, and saving the day, The Great Pirate Adventure is calling all brave kiddos to save the day. X marks the spot - Chase, Marshall, Rubble, Skye, Rocky, and Zuma are bound to discover hidden treasures right on stage on Saturday, January 20th of the new year. As Cap'n Turbot finds himself tucked in a mysterious cavern, everyone's little heroes are set to embark on an adventure of bravery and conquest. Discovering a secret map that leads to hidden treasures, the whole fam bam's pretty much in for a rewarding day. Say Arrgh! As Mayor Goodway gets everything up in shipshape, everyone's counting on your little heroes to assist the loveable PAW Patrol team on a journey like no other. Get those little paws ready by booking your tickets now!
An action-packed extravaganza awaits all little pirates! X marks the spot as PAW Patrol Live - The Great Pirate Adventure is hitting the stage for a series of shows at Wang Theatre. Gearing up for Pirate Day Celebration, Cap'n Turbot falls into a mysterious cavern, and the whole gang - Chase, Marshall, Rubble, Skye, Rocky, and Zuma is here to save the day. But they need some help! Welcoming a new pup in the squad, Tracker, the PAW Patrol family is seeking the assistance of your little heroes to save the day.
Arrgh! Welcoming a brave set of kiddos and parents to Adventure Land, hidden treasures await as everyone takes part in saving Cap'n Turbot and following a secret map that leads to an epic adventure.
"In Paw Patrol Live! "The Great Pirate Adventure," Mayor Goodway is getting everything shipshape for a big Pirate Day celebration in Adventure Bay. When Cap'n Turbot falls into a dark and mysterious cavern, it's Paw Patrol to the rescue! Chase, Marshall, Rubble, Skye, Rocky and Zuma save Cap'n Turbot and discover a secret pirate treasure map that leads them on an epic adventure, which includes help from the newest pup who is all ears, Tracker!" - PAW Patrol Live! producers shared.
Embarking on his first PAW Patrol mission, Tacker's definitely looking forward to make new friends with a PAWsome family of PAW Patrol kiddos! Amassing millions of audiences across 40 countries, the show's awesome live extravaganzas continue to keep bringing families and little friends closer, sharing moments to cherish as their favorite cartoon heroes come to life. Get ready to raise your paws!
"It isn't just any cute little show," Broadway World's Kathy Strain shares in a review of The Great Pirate Adventure. "there is so much depth to all the background scenes to be found throughout the performance. Between the lighting, the scene changes, PAW PATROL LIVE THE GREAT PIRATE ADVENTURE is truly a professional Broadway quality event."
If you think it's just another cute show to appease the kiddos, PAW Patrol's spectacular also offers a bit of exciting things for the loving parents... It's a chance to bond and witness the kids smile and jump for joy, saving the day as honorary heroes of PAW Patrol.
"It was heartwarming, engaging, and truly entertaining," Digital Journal shared in its review. "Seeing the smiles on the children's faces throughout the production was absolutely priceless."
A kid's smile is definitely priceless. Book the whole fam's tickets now.