Wang Theatre | Boston, Massachusetts
The inimitable tour-de-force that is Madonna comes to Wang Theatre on Monday 2nd December 2019 for the third night in a row on her highly anticipated Madame X Tour! The tour, which supports the release of her 14th studio album and presents the global icon as an international woman of mystery, will take on a very different form to any of her previous stints:
"I've done so many shows—world tours, stadiums, sports arenas, you name it—that I feel like I have to reinvent that now too. I like doing intimate shows and being able to talk directly to the audience."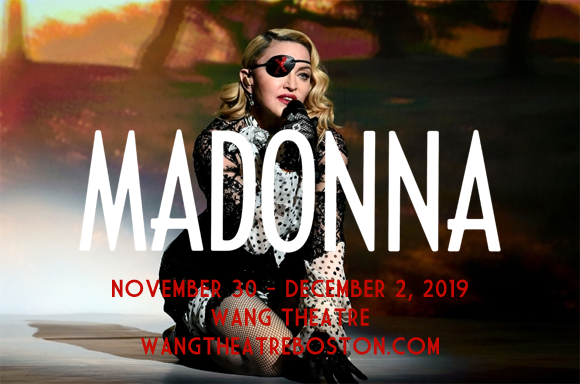 Known worldwide as the "Queen of Pop", Madonna is the world's best-selling female recording artist of all time, according to Guinness World Records, and has been listed by the RIAA as the second highest-certified female artist in the U.S. She has also been noted by Billboard as the most successful solo artist in the history of the Hot 100 chart, and is the highest-grossing solo touring artist of all time. Madonna made her debut with the 1982 single "Everybody", and the following year launched her self-titled debut album, which peaked at number eight on the Billboard 200 and was certified five-time platinum, as well as reaching the Top 10 in Australia, France, Netherlands, New Zealand, Sweden and the United Kingdom. Throughout her career, Madonna has had 38 top ten singles, including twelve number-one songs, on the Billboard Hot 100 and eight number-one albums on the Billboard 200, as well as 46 songs topping the Dance Club Songs chart. In addition to her record-breaking success in music, she is a renowned actor (she won the 1996 Golden Globe Award for Best Actress in a Musical or Comedy for her role in Evita) and is known throughout the world as a cultural, fashion and feminist icon.