Wang Theatre | Boston, Massachusetts
Pioneering EDM masters Kraftwerk comes to Wang Theatre on Saturday, June 11th, 2022. Buy your tickets here and get ready for the founding fathers of elctro, the creators and inventors of awesome robot noises, an EDM group so legendary that they have been inducted into the Rock and Roll Hall of Fame and been honored with a Grammy Lifetime Achievement Award. Credited with influencing all synth music from as far back as the 80s, and having had an influence on other forms of music from Pop to Hip Hop, House, and Drum n' Bass, they are the pioneers of the electro genre.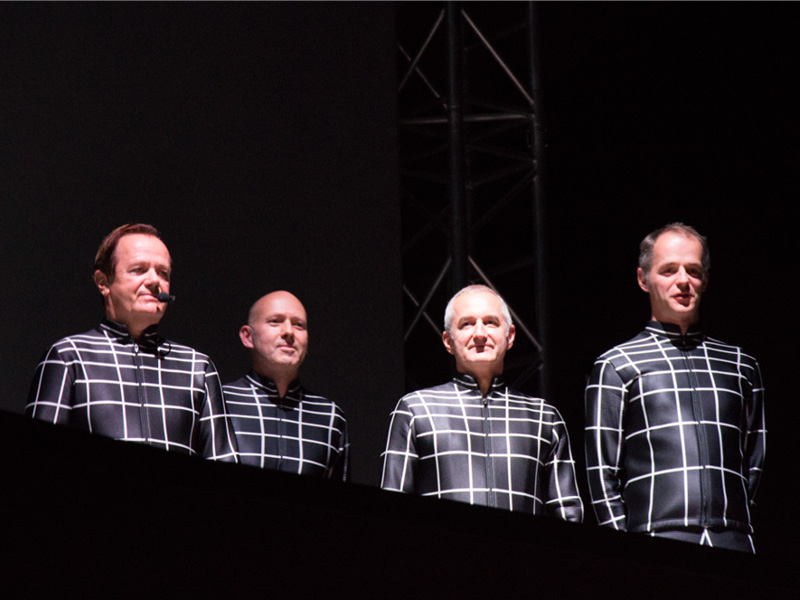 Kraftwerk, the legendary godfathers of EDM from Germany, bring you 3-D. 3-D The Catalogue is Kraftwork's second official live album that came out in 2017, and is their most recent release. The album is made from of live versions of every Kraftwerk song from their albums Autobahn in 1974, all the way through to their Tour de France Soundtracks from 2003. It was nominated for Best Surround Sound Album and won Best Dance and Electronic Album at the 60th Annual Grammy Awards in 2018, earning the group their first Grammy win.
Ralf Hütter, Fritz Hilpert, Henning Schmitz, and live video technician Falk Grieffenhagen are the current members of Kraftwerk. Originally formed way back in 1969, the group are considered innovators and pioneers of electronic music, becoming among the first successful acts to popularize the electronic genre. Their early successful albums, Autobahn from 1974, Trans-Europe Express from 1977, The Man-Machine from 1978, and Computer World from 1981 are described as experimental "robot pop" style music, a combination of EDM and Pop.
Kraftwerk have had a huge influence on a diverse range of artists and many genres of modern music, including synth-pop, hip hop, post-punk, techno, ambient, and club music, eventually leading to the band being honored with a Grammy Lifetime Achievement Award in 2014 and even becoming inducted into the Rock & Roll Hall of Fame in the early influence category in 2021.