Wang Theatre | Boston, Massachusetts
JEFF DUNHAM, the outstanding ventriloquist, has proven time and time again that his comedy is one of the best in the world. Not only is there nobody else out there like him, but his unique mastery of the puppetry art form has given him a platform to entertain fans of all ages. With a whole heap of accolades and a massive following, he has sold out shows across the nation. Now he brings all of his incredible creations, including Walter, Peanut, And Achmed The Dead Terrorist, to the iconic Wang Theatre for three incredible nights on January 25, 26, and 27, so whether you choose to watch him on any of the nights or all three combined, it'll be extremely entertaining!!! …buuutttt, tickets to the show are going to be hard to come by because an artist this big is sure to pack out the venue. Grabbing your ticket now is a must, and you can do so simply by clicking the "GET TICKETS" button located above.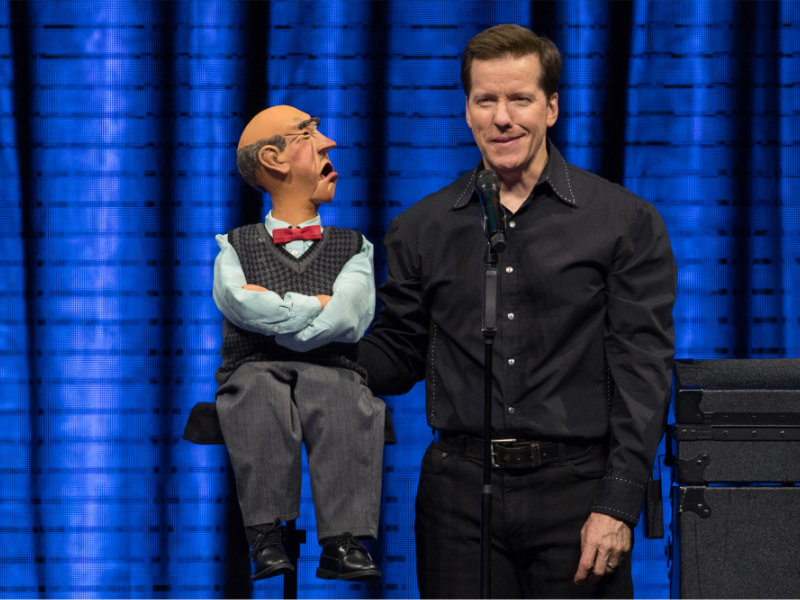 When Jeff Dunham was eight years old, his parents gave him a Mortimer Snerd Dummy for Christmas, which came fully equipped with a how-to album. Jeff was so enthralled by his new toy, he went to the library and borrowed a book on ventriloquism from his local library. In the fourth grade, Dunham declared to himself that he wanted to be a ventriloquist, but not just any, he wanted to be the best one ever.
During his teen years, he would start performing at various places, such as church, Six Flags, and school events. Using his puppets, he developed a unique style of lampooning, and they would act as cover for him to say things that were regarded as indecent for him to say himself.
In 1976, he made his television debut when reporter Bill O'Reilly interviewed him for a local news story. This had caught the attention of others, and while still in high school, he made commercials for car dealerships in Dallas and Tyler.
Jeff was born to be a showman, and he used his school years to help develop his act, like dealing with a heckler on stage, which won him his audience, or posing with his dummies for his high school photographs as a way to get professional photographs for his act. By 1980, his peers in high school had voted him most likely to succeed after graduation.
By his junior year, Dunham was raking in $70,000, and word had spread about his act, landing him coveted spots opening for Bob Hope and George Burns. After graduating from Baylor University in 1986, he continued with his act, adding new Characters to his lineup, which included, Peanut and Jose Jalpeno.
While he was a talented individual, there just didn't seem to be any room for growth with ventriloquism, and he wasn't taken seriously. So as 1988 drew to a close, he moved from Texas to LA, where he made friends with the owner of The Comedy & Magic Club, Mike Lacey. There he would observe comedians like Jerry Seinfeld, and using them as inspiration, he quickly sharpened his act, but it was still tough out there.
He was booked on The Tonight Show, which was later cancelled due to a change of heart by his booking agent. Despite the many setbacks, he didn't let them get in the way of his success and carried on performing and honing his craft. In 2003, he got his big break with an appearance on Comedy Central Presents. The move gave him the platform to release several DVDs, allow him to tour nationwide, pack out venues, have his own TV show, and have a line of merchandise.
While there were still several setbacks, it is safe to assume that he has now become one of the best out there, and this show promises to be a feature filled event that will leave you laughing all night long.
Grab your tickets right now!!!