Wang Theatre | Boston, Massachusetts
The Heelers are flying to the US on their very first US Bluey's Big Play The Stage Show, hopping over to the stage at Wang Theatre on Friday, 7th of April 2023. It's time to call the kiddos to laugh, dance, and sing with Bluey, Bingo, Bandit, and Chilli right on the stage on an epic adventure of a lifetime! The award-winning animated series is set to make a milestone in the US, after the success of its stage show in Australia. Loved by kids across the globe, don't miss out on this chance to bring your kids on a lovely moment with the Heelers themselves, right off of your TV screens to the live stage. Book your ticket now!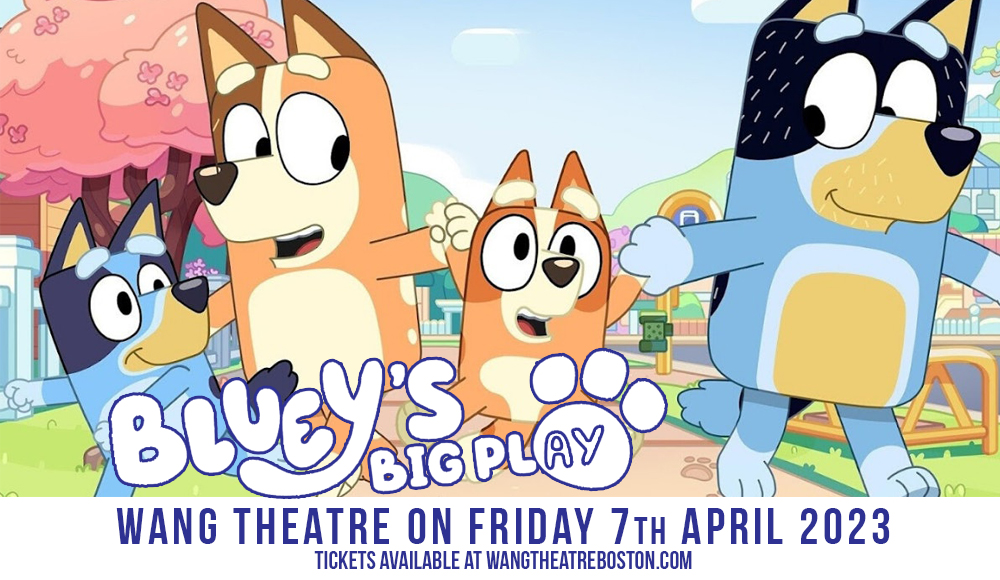 The award-winning children's animated TV series, Bluey, loved by kids across the globe is heading to its first US live stage tour, presented by BBC Studios and Andrew Kay with Windmill Theatre Co. The live immersive experience for the kids' favorite Heelers is finally flying to the US after its massively successful run in their home in Australia.
Featuring 'brilliantly created puppets', the show promises Bluey like viewers have never seen before, in real life on stage featuring a fresh new story by Blue creator Joe Brumm and new music by Bluey composer Joff Bush.
"After seeing the amazing reaction the show received during its Australia run, we are delighted to bring this standout live theater show to U.S. audiences," says Rosemary Myers from Windmill Theatre Co. "We know how much love there is out there for Bluey and are thrilled and honored to translate these brilliant characters into the three-dimensional world and to share this special experience with fans throughout America."
Bluey's Big Play The Stage Show is setting stage in over 30 cities in the US, including this special stop at Wang Theatre on April 7th. So, it's time to call the kiddos and get them pumped up to meet their favorite family of dogs – the Heelers live on stage! Book your tickets now!