Wang Theatre Seating Chart
The Wang Theatre is situated inside the Boch Center and has one of the largest stages in the country! Use the seating chart below to pick your desired spots and see the location of accessible seating. You will be able to get a more in-depth seating chart when purchasing your tickets for your desired events.
The venue has a seating capacity capable of hosting 3,500 visitors and 10 accessible seating areas.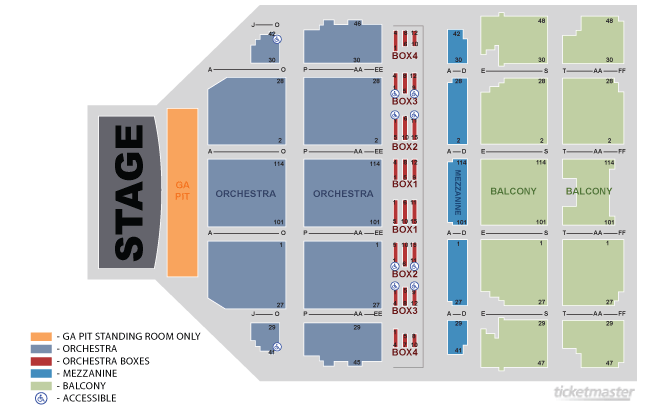 The theatres seating arrangement is divided into five areas. The Pit areas in front of the stage is reserved for standing only and not available at all shows. The Orchestra area is the main seating area on the ground floor in front of the stage – these are the theaters most popular seats. Orchestra boxes are the ground floors VIP seating area at the back of the room, usually reserved for groups and families who want a great view and additional space and privacy during the show. On the first floor the Mezzanine offers a great view of the stage and is only a few rows deep. Above the Mezzanine is the Balcony which offers a great view over the stage.