Wang Theatre | Boston, Massachusetts
The multi-platinum hit-selling hip-hop Christian music sensation TobyMac is back, taking his The Theatre Tour this fall to Wang Theatre on Saturday, 8th of October 2022. The "Me Without You" and "I Just Need U." singer who exalts hip-hop praise dedicated to the faith is set to keep the music that hits deep right into the hearts of believers alive as they gather together, singing praise and worship at local theaters. The altar awaits at Wang Theatre for believers to gather and rock on as TobyMac leads the stage into a rocking atmosphere of praise and worship. Save your seats now!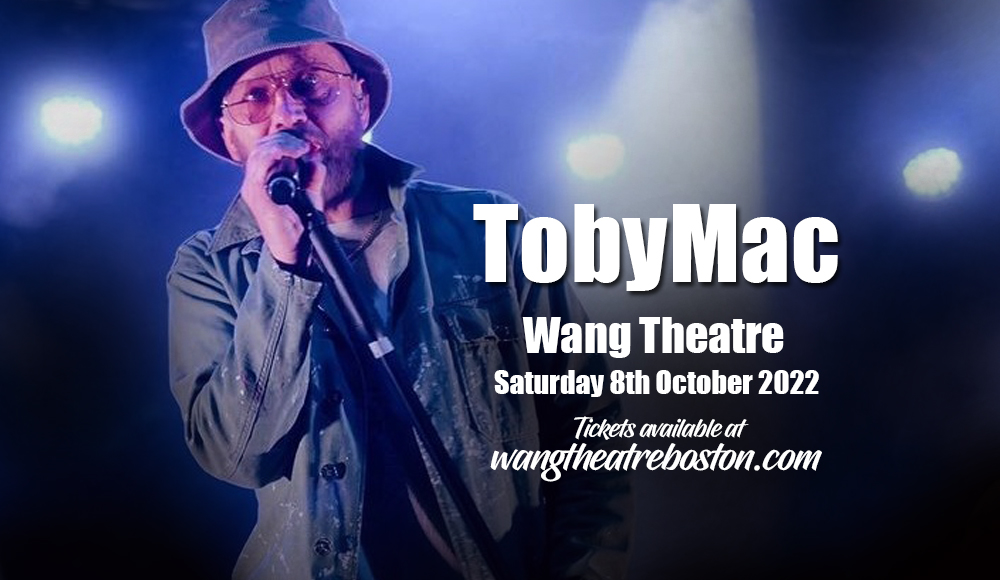 Over the last twenty years, TobyMac has defined the Christian hip-hop and rock landscape. If one might think that Christian music is all about hymns to soothe the soul and shed a tear, one may be surprised to find out that hip-hop and rock can deliver a unique praise and worship experience that takes one soul to rock all out in praise. With all of his seven studio records hitting the top-eight of US Christian Albums charts, and five of which were released consecutively hitting #1, TobyMac is one of contemporary Christian music's most influential artists, selling over ten million albums and bagging seven Grammy Awards.
His fifth album "Eye on It" features his songs "Me Without You", "Steal My Show", and "Speak Life", marking him to become the third Christian artist to score a #1 debut on the Billboard 200.
Though numbers don't define one's impact in the faith, these just goes to show that TobyMac's commitment to bringing Christian music closer to the hearts of listeners across the globe has proven effective, blessing the ears and hearts of believers across the globe.
His biggest hits and crowd-favorites include "Made to Love", "City on Our Knees", "Lose My Soul", "Speak Life", "Lights Shine Bright" feat. Hollyn, "I Just Need U.", "Me Without You", "Help Is on the Way (Maybe Midnight)" and "Everything".
Talking about his #1 hit "I Just Need U.", "[The song] started in a session writing for the band Finding Favour, but they said it wasn't for them. I thought about [it] and began plowing through my feelings. The world tricks us into thinking certain things will fulfill us, [but] time and again I end up hungry. But when I look to my faith, I begin to find a permanent fulfillment. There's depth and there's soul, which is what you would expect from a seasoned artist." TobyMac told Billboard.
TobyMac's last big release was 2018's "The Elements", marking his fifth #1 album on the Top Christian Albums chart, hitting #18 on the Billboard 200.
The Christian hip-hop sensation just recently announced the arrival of his much-anticipated new record "Life After Death" coming out on August 19th. The record will feature his recent singles "21 Years", "I'm Sorry (A Lament)", "Help Is on the Way (Maybe Midnight)", "Promised Land", and "The Goodness" featuring Blessing Offor.
With a new decade of exalting praise and worship through music that hits deep right into believers' hearts, TobyMac is set to keep people raising their hands up in praise and humility in laying it all down for the one.
Book those tickets now!