Wang Theatre | Boston, Massachusetts
The Hollywood Vampires have a rock 'n' roll treat for their state-side fans before they jet set off to Europe for that portion of their live 2023 tour – THREE more North-East dates added to the US leg of their tour! Manchester, Bethel and Boston are playing host to the band made up of rock 'n' roll icons, known for their shock-rock antics both on and off the stage, as well as some legendary tracks – both original material and stellar covers. If you have a soul full of attitude and anarchy, they are the band for you! RSVP 'yes' to your invite to join them on their tour and be at the Wang Theatre, Boston, on Wednesday the 31st of March this spring. All you need to do is book your tickets and you will secure yourself a seat for a concert that every rock fan wants, so do it now!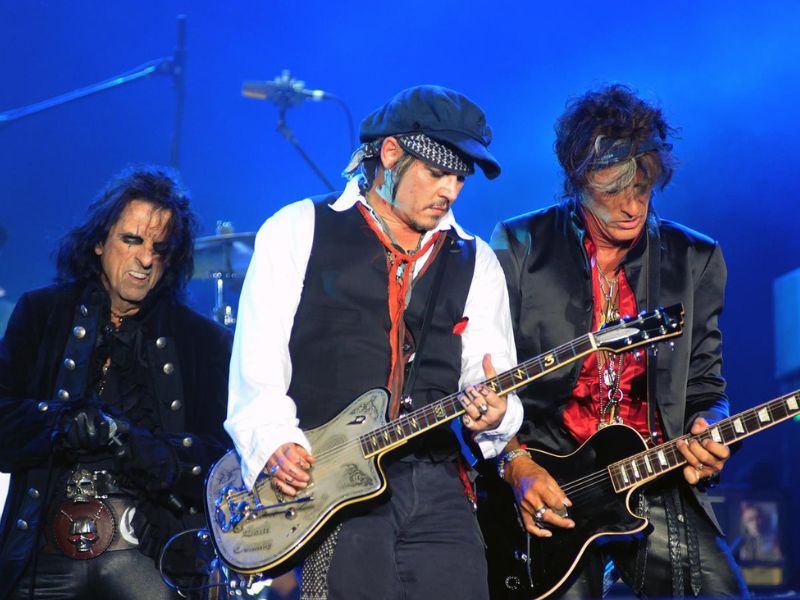 In the 1970's rock legend Alice Cooper created a club that all the creative rockers and anarchist artists wanted to be at, The Hollywood Vampire. The club became a lair of debauchery, heavy drinking and nightly festivities, where admittance was given on out-drinking the members – no mean fete then! The principal members upheld the values of the club, and the Hollywood Vampire became an iconic venue for celebrities that wanted to spend time in the lair of hedonism and having a great time. In 2012, Alice Cooper formed a supergroup of the same name with Joe Perry and Johnny Depp that pays tribute to the club. The supergroup has become a motley crew of rockers and a beacon of rock 'n' roll hedonism, music and attitude, where joy and laughter reign with their over-the-top experiences. The current members of the group are a mish mash of artists and musicians that all have a flair and talent for music, with all current members playing a variety of instruments whilst harmonising and blending their vocals. Featuring on their 2023 tour will be Joe Perry, Alice Cooper, Johnny Depp and Tommy Henriksen. With the founding member and lead guitarist of Aerosmith, Joe Perry, the metal rocker and Warlock badass, Tommy Henriksen, the Hollywood actor and musician, Johnny Depp and, of course, the 'Godfather of Shock Rock', Alice Cooper, this concert promises to be everything that the rebel and rocker in your heart NEEDS to experience live! Not only will the foundations of the Wang Theatre be trembling with the thumps, beats, vocals and epic guitar solos, but they will be vibrating with the insane craft-mans ship and attitude each member of The Hollywood Vampires has. Their first studio album was a taster of all that was to come from the group, yet it is with their second album release in 2019, 'Rise', that they raised the music bar in magnitudes with their own original material. So, take a walk on the wild side with The Hollywood Vampires and rock out with people that really do know how to party. Book your tickets now!