Wang Theatre | Boston, Massachusetts
The award-winning children's animated TV series, Bluey, is coming to life on stage at Bluey's Big Play! After its successful run in its home base in Australia, the Heelers are flying to the US to throw an adventure of a lifetime for the little ones. Get ready to meet the Heelers – Bluey, Bingo, Bandit, and Chilli at Wang Theatre on Saturday, 8th of April 2022 where they'll surely sing, dance, laugh, play, and altogether have a good time with you and the kiddos. So, if you've been looking for a chance to surprise the little ones to catch their favorite cartoon characters come to life, this is it! Book those tickets now!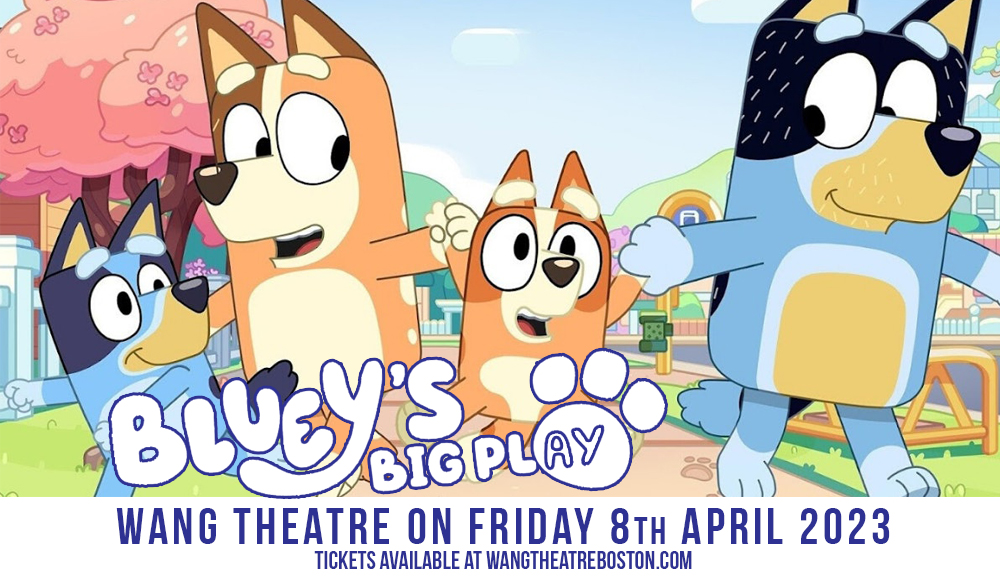 "A glorious celebration of everything you love about the show has been woven into a touching new story – for real life" Jason Reed of The Guardian shared in a review of Bluey's Big Play in one of its shows in Bluey's home, Australia.
The Emmy award-winning animated series, Bluey, first had its live stage show tour run in Australia, playing over 400 shows across 65 venues including the iconic Sydney Opera House. With little fans all over the world, the Heelers are set to fly out and meet their little friends on a US stage show tour. Bluey's Big Play is coming to theatres across the country, bringing a fresh storyline by Bluey creator Joe Brumm.
The show also features new music by Bluey's very own composer, Joff Bush. With 'brilliantly created puppets', the show tour promises Bluey like 'you've never seen before, brought to real life'.
Presented by BBC Studios and Andrew Kay with Windmill Theatre Co., Bluey's Big Play is the first theatrical adaptation the award-winning children's animated TV series. "U.S. audiences have whole-heartedly embraced Bluey and all its Aussie quirks, and I can't wait to see their reaction to the live show," said Kate O'Connor of BBC Studios ANZ.
"We know how much love there is out there for Bluey and are thrilled and honored to translate these brilliant characters into the three-dimensional world and to share this special experience with fans throughout America." said Rosemary Myers of Windmill Theatre Co.
So, get ready for an all-new adventure with Bluey, brought to life on stage, that the kids and even the parents will surely enjoy! Book those tickets now!