Wang Theater At The Boch Center | Boston, Massachusetts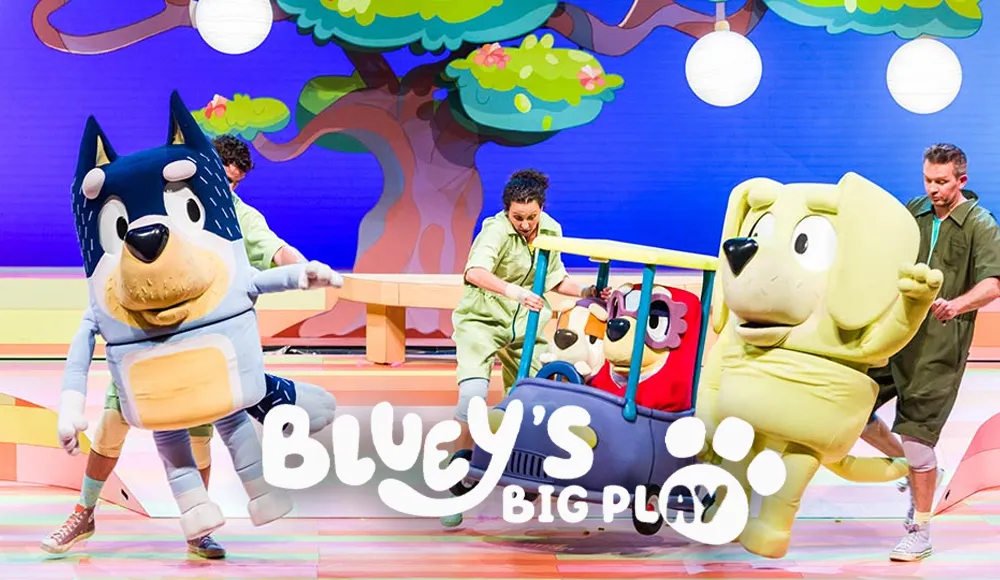 It's Bluey! Calling all parents for a special time to take their little ones on a PAWsome little adventure with the Heelers! Off of your TV and iPad screens, the Emmy Award-winning children's animated TV series Bluey is coming to town. The cheeky dog and her family are inviting their bestest playmates for an exciting day of singing, dancing, jumping, and having fun. Though it's playtime, Bluey's live shows are also largely educational, teaching the kiddos' a handful of life lessons along the way. After massive waves of acclaim and successes in her home in Australia, Bluey's Big Play is flying across the world, stoked to meet her international friends in North America. Part of her worldwide adventure is a stop at Wang Theatre on Sunday, 19th of May. Promising a new story and original music, the Big Play isn't just another live re-enaction of a TV cartoon. It's a whole new experience that the kids and even the parents are bound to enjoy.
The Heeler's Australian national tour was met with massive success, staging over four hundred shows including performances at the iconic Sydney Opera House. This time around, Bluey is jet-set to meet her international playmates, touring across theaters in North America. The whole family looks forward to spending exciting days of singing, dancing, jumping, and laughing it all out at playtime. Bluey's Big Play not only provides a live stage show of the kids' favorite TV series, but it also provides a fun way to learn and have fun as parents and kids get the chance to bond and spend quality time with each other.
Bluey's Big Play promises a fresh story created by Bluey creator Joe Brumm. Yup, it's not just another live re-enaction of a TV show, it's a brand-new experience! Together with its new adventure, the show also features new music from Bluey creator Joff Bush. So, better expect big surprises and big smiles as the kiddos embark on a wonderful playtime adventure.
"When Dad feels like a little bit of Sunday afternoon time out, Bluey and Bingo have other plans," Bluey's official website shared. "Join them as they pull out all of the games and cleverness at their disposal to get Dad off that bean bag."
Better get Dad off of that bean bag and head straight to playtime with the Heelers! It's not just another kid-friendly live show that the parents (might) dread... It's a special time to bond and play with the kiddos as they get to meet their animated best friend from their iPad screens. Mom & Dad, we know you love seeing your favorite idols live on stage; it's not something that might cross your mind, but the kids will be definitely amazed and touched to see their internet teacher and friend come to life.
"We know how much love there is out there for Bluey and are thrilled and honored to translate these brilliant characters into the three-dimensional world and to share this special experience with fans throughout America," shares Rosemary Myers from Windmill Theatre Co.
Moreover, Bluey's Big Play acknowledges family life, taking great importance in bonding with the kids and nurturing their growth. "The Emmy-winning Australian series accurately captures family life, introduces new games and sparks conversations," The Guardian shared in its review of the show. "It also demonstrates how to behave and, more importantly, how to play – for us and for our children."
Calling all families for an exciting time to play and have fun! Don't miss out on Bluey's Big Play by booking your tickets now!