Wang Theater At The Boch Center | Boston, Massachusetts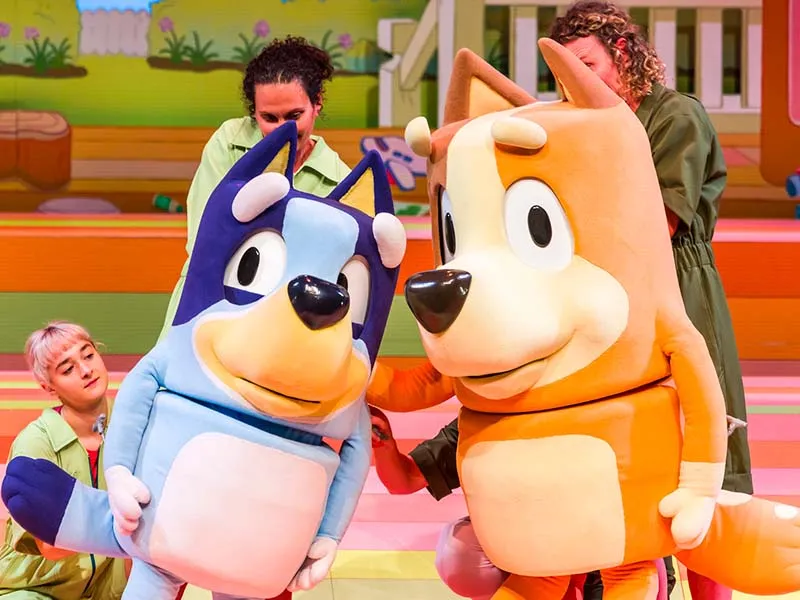 This spring, kids in Boston, Massachusetts, can look forward to one of the most exciting stage musicals this season! Are you ready to bring your family to a whimsical adventure? If your answer is yes, you better continue reading this because, boy, we've got a treat for you! The highly-coveted Bluey's Big Play is making its way to Boston for a series of performances! The musical, based on the award-winning children's series Bluey, has been adapted to the stage with a brand new story and fresh musical score! Catch Bluey, his sister Bingo, his dad Bandit, and his mom Chili as they share this wonderful story with beloved audiences at the Wang Theatre! It's an exhilarating musical filled with wonders of Bluey's world, imaginative play, and captivating music! You'll surely be wowed by the musical's aural and visual experience! It's time to bond with your family and bring them to a show they will cherish for years to come! Hurry and secure tickets now to see Bluey's Big Play at the Wang Theatre! Tickets to the show on Saturday, 18th May 2024, are now available through the Get Tickets link!
In this charming story, Bluey and his sister come up with a mischievous plan. Bandit, their dad, won't put his phone down. So, Bluey and Bingo steal their dad's phone to force their father to play with them. It's a highly relatable story with a valuable lesson. Much like parents in real life, kids wish that their parents paid more attention! The musical features a brand new storyline by Bluey creator Joe Brumm, as well as a new musical score by Joff Bush. Bluey's Big Play has been conquering venues across North America since 2023 and due to public demand, the musical will continue its highly-awaited tour, which includes a stop in Boston.
Attendees can look forward to the musical's breathtaking visuals featuring impressive scenic design and trailblazing puppetry with an outstanding palette. The new score is also sure to excite its audiences and get them singing and dancing along to the beat. Like the show, the story takes place in Bluey's homeland in Queensland, Australia. Audiences will get a glimpse of the incredible landscape and charming culture of the Land Down Under!
A project by Joey Brumm, Ludo Studio, BBC, and Windmill Theatre Co, Bluey's Big Play is a brand new musical based on the TV series. Since its premiere in 2018, Bluey has won numerous awards, including two Logie Awards for Most Outstanding Children's Program and an International Emmy Kids Award. The program features a family of blue heelers, with Bluey as the show's main character. Aside from his family, the TV series also has recurring characters, such as Muffin and Socks Heeler (Bluey's cousins), Chloe (Bluey's best friend), and Lucky (Bluey's next-door neighbor).
The story often depicts imaginative play. This encourages young viewers to use their imagination to self-direct and engage in unstructured play – helping develop and stimulate children's social skills. The show has also been praised for showing parents how to guide children through challenges and situations.
This spring, Bluey's Big Play takes over the Wang Theatre for several performances, including an exciting showing on Saturday 18th May 2024. Attendees can look forward to a great time thanks to the Wang Theatre's excellent facilities and top-tier light and sound technology.
Hurry and secure tickets now to see Bluey's Big Play at the Wang Theatre! Tickets to the show on Saturday, 18th May 2024, are now available through the Get Tickets link!